Forget spending money buying and posting traditional paper cards this year - send an e-card. The holidays are a perfect time to connect with customers, partners, clients and prospects.
An e-card will keep your name fresh in readers minds, leading to increased business in the new year.
Here are some email card ideas, tips to make yours stand out, along with examples from last year featuring animation, computer games and video.
1. Charity Donation E-Cards 
Click here to view the cool Shelton Fleming e-card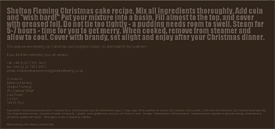 Donate the money you save on printed cards to charity. As Shelton Fleming stated in their memorable b2b e-card, "This year we are sending our Christmas card budget to Oxfam, so don't wait for the postman!". I love that they included a recipe and the sign off, "Bah humbug, click here to unsubscribe". Roll your mouse over the text and see what happens!
2. Animated e-card 
Click here to view the animated Santa e-card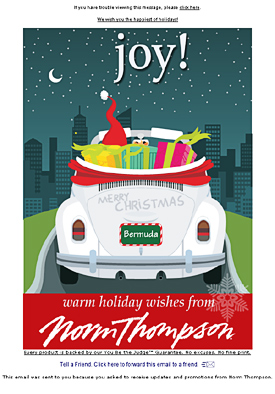 This year you need to pull out all the bells & whistles to get noticed in the inbox. This animated e-card from retailer Norm Thompson was festive and fun.
3. Give a gift  
Click here to see the Primer e-card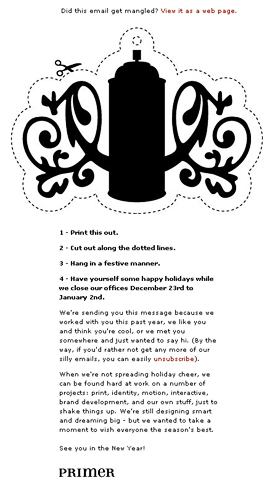 I love the quirky nature of this e-card from Primer. It includes a cutout holiday decoration.  To encourage in-store traffic,  send out an email with a coupon for a free gift/discount to be redeemed in-store. 
4. Video e-card
Click here to view the video landing page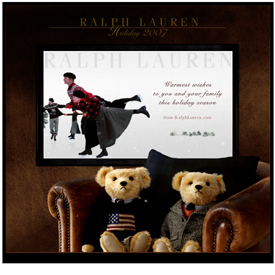 Ralph Lauren sent out this lovely video e-card last year. Link to a video clip of your staff cooking up a favorite holiday dish, giving stress free shopping tips or just saying Happy Christmas like the guys at The Escape, a Uk based design acency.

n-tara created the holiday spoof video, "Sounds of the Digital Season".

5. Resist attaching a promotion 
Click here to view the full-sized e-card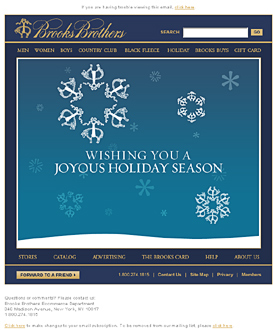 Sincere gestures will stand out in the inbox and lead to increased business. Brooks Brothers sent out this promotion free holiday e-card last year.
6. Holiday games
b2b holiday e-card from Bulldog, which links to an online game.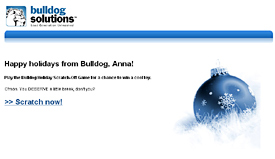 Landing page - click to play game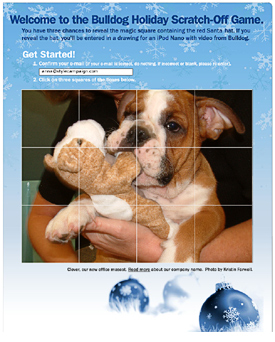 Bulldog, a lead generation company emailed me a simple game. It featured the company mascot - a bulldog - and a group photo.
Other b2b companies Olive and Ntara also sent out sent out e-cards linking to online games.
A popular b2b theme last year was to share business tips and resolutions. Many companies took the opportunity to highlight successes of the past year and tell readers how they planned to up their game in the coming year.
Start planning now! 
Don't leave it for Christmas Eve when people are too busy to notice, or away from their computers visiting relatives. Send your e-card when you would normally hand out paper cards at work. Let the email elves design it now, schedule it ahead of time, then relax and enjoy your Holiday!