It seems that every time I open my inbox I encounter more animated emails. Recent converts include Ralph Lauren, Piperlime and Clinique. With animated GIF's widely supported in the email environment, everyone's joining in the trend. Animated emails can boost your click throughs, even email purists have been persuaded to give animation a try.
My top 10 picks are in no particular order and all use animated GIF's rather than Flash.
 Click on the images below to view the animated emails
Saks - March 07. Subject line - Want It! Our Spring Trend Line-Up + FREE SHIPPING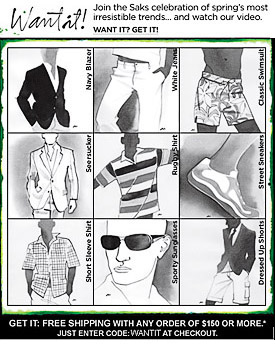 Land's End - March 08. Subject line - Hiker, sandal, sneaker in one - just $39.50!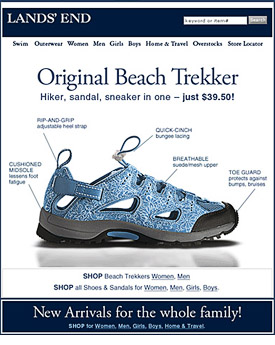 Norm Thompson - Nov 07. Subject line - SAVE 20% on your entire Santa gift list!
Piperlime - April 08. Subject line - Welcome to Palm Beach.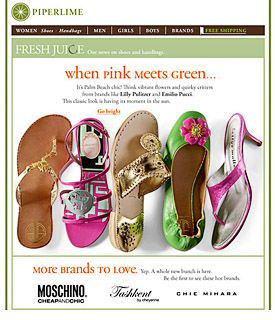 REI Gearmail - Nov 07. Subject line - An REI Favorite - The North Face Denali Jacket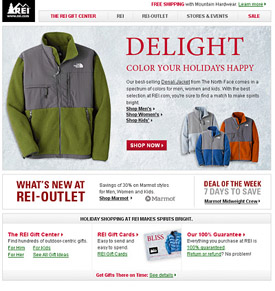 Art.com - Nov 07. Subject line - Change your Scenery - 20% Off Entire Order!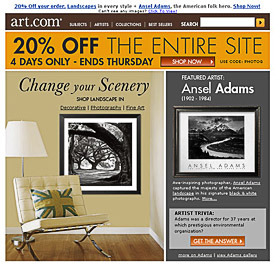 Horchow - Nov 07. Subject line - CLEARANCE EXPANDED: new items just added…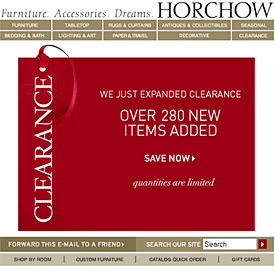 CB2 - Jan 08. Subject line - warhol for 3.95 (wink, wink)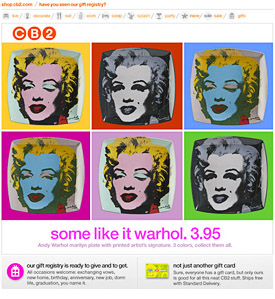 Williams Sonoma - Jan 08. Subject line - Roasted Garlic + Herb Dip for Game Day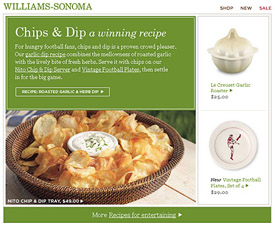 Neiman Marcus - April 08. Subject line - The ARTISTRY trend with a Fendi twist + EARN A $200 GIFT CARD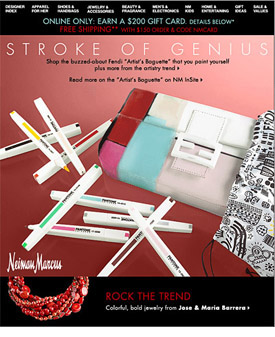 Looking at the 80 or so animated emails in my collection, some clear tactics stood out:
Animation can reinforce branding { REI Gearmail } Stack multiple images into limited space { Art.com } Draw your eye to overlooked areas of the screen { Piperlime } Show off important product features { Neiman Marcus }  Highlight important copy { Horchow } and add fun around the holidays { Norm Thompson }