While trying to find out which webfont services are compatible with email, one type foundry mentioned that their license only covers certain font formats. I believe it was WOFF, EOT and SVG, but not TTF or OTF as they are considered desktop formats. As each format has varying browser support, they asked if this would give us enough coverage in email. Although I knew WOFF was the emerging standard with a W3C Recommendation, I hadn't looked closely at email client support for each format. So we ran some tests in the device lab — view full QA — using the four formats Google Fonts currently serves: EOT, TTF, WOFF2 and WOFF.
@font-face support by format & method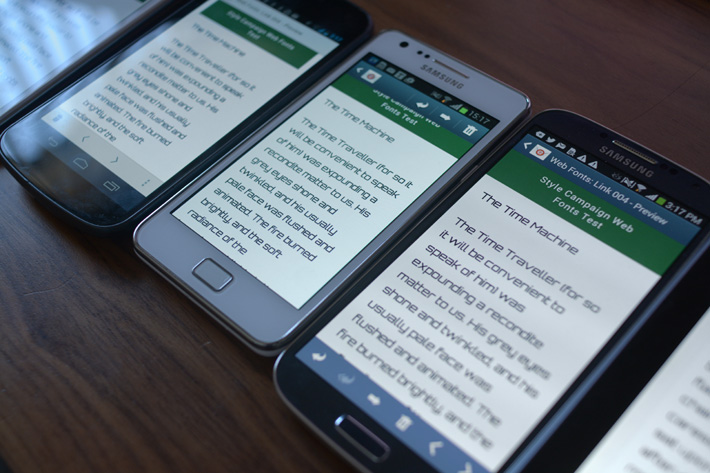 Using the Google font Orbitron, we tested each format with @font-face directly in the head, via @import and <link>. If using the later two, Google Fonts automatically serves the right font format to the right browser. Placing the code directly into the head takes more work, we opened up the Orbitron link in various browsers to collect each URL. All three of these methods ultimately rely on @font-face support. If you open up the @import or <link> url, you'll see the @font-face code that corresponds to your browser.
Web clients:
EOT in head
TTF in head
WOFF2 in head
WOFF in head
All in head1
@import
<link>
AOL IE11
No
No
No
Yes
Yes
No
No
Desktop:
EOT in head
TTF in head
WOFF2 in head
WOFF in head
All in head1
@import
<link>
Outlook Express 6
Yes
No
No
No
Yes
Yes
Yes
Outlook 2000
Yes
No
No
No
Yes
Yes
Yes
Outlook 2002
Yes
No
No
No
Yes
Yes
Yes
Outlook 2011 (Mac)
No
Yes
No
Yes
Yes
Yes
Yes
Outlook 2015
No
Yes
No
Yes
Yes
Yes
Yes
Apple Mail 6
No
Yes
No
Yes
Yes
Yes
Yes
Apple Mail 7
No
Yes
No
Yes
Yes
Yes
Yes
Apple Mail 8
No
Yes
No
Yes
Yes
Yes
Yes
Lotus Notes 8
Yes
No
No
No
Yes
Yes
Yes
Thunderbird
No
Yes
No
Yes
Yes
Yes
Yes
iOS iPhone / iPod:
EOT in head
TTF in head
WOFF2 in head
WOFF in head
All in head1
@import
<link>
iPod 8.1.3 native
No
Yes
No
Yes
Yes
Yes
Yes
iPod 8.1.3 Outlook
No
Yes
No
Yes
Yes
Yes
Yes
iPod 8.1.3 Mailbox
No
Yes
No
Yes
Yes
Yes
No
iPod 8.1.3 Sparrow
No
Yes
No
Yes
Yes
Yes
Yes
iPod 6.1.3 native
No
Yes
No
Yes
Yes
Yes
Yes
iPod 5.1.1
No
Yes
No
Yes
Yes
Yes
Yes
iPod 4.3.5
No
Yes
No
No
Yes
Yes
Yes
iOS iPad:
EOT in head
TTF in head
WOFF2 in head
WOFF in head
All in head1
@import
<link>
iPad Mini 8.1
No
Yes
No
Yes
Yes
Yes
Yes
iPad 7.0 (retina) native
No
Yes
No
Yes
Yes
Yes
Yes
iPad 7.0 (retina) Molto
No
Yes
No
Yes
Yes
Yes
Yes
iPad 4.3.5 (non-retina)
No
Yes
No
No
Yes
Yes
Yes
Android (native):
EOT in head
TTF in head
WOFF2 in head
WOFF in head
All in head1
@import
<link>
Motorola Deft, Froyo 2.2.2
No
Yes
No
No
Yes
Yes
Yes
Samsung Galaxy Ace, GB 2.3.6
No
No
No
No
No
No
Yes
Galaxy Note, GB 2.3.6 GB
No
No
No
No
No
No
Yes
Samsung Galaxy Nexus, ICS 4.0.4
No
Yes
No
No
Yes
Yes
Yes
Outlook.com app
No
Yes
No
No
Yes
Yes
Yes
Galaxy S2, Jellybean 4.1.2
No
Yes
No
Yes
Yes
Yes
Yes
Android native, Jellybean 4.2
No
Yes
No
No
Yes
Yes
Yes
S4, Jellybean 4.3
No
Yes
No
Yes
Yes
Yes
Yes
Nexus 7, KitKat 4.4.2
No
Yes
No
Yes
Yes
Yes
Yes
Kindle:
EOT in head
TTF in head
WOFF2 in head
WOFF in head
All in head1
@import
<link>
Kindle Fire 7″ original
No
Yes
No
No
Yes
Yes
Yes
Kindle Fire 7″ HD
No
Yes
No
No
Yes
Yes
Yes
Preview tool:
EOT in head
TTF in head
WOFF2 in head
WOFF in head
All in head1
@import
<link>
Litmus
View
View
View
View
View
View
View
Note: 1. All in head includes EOT, TTF, WOFF & WOFF2