I've been doing some research for a webinar into web enabled devices - and by extension webmail - not only mobile phones but e-readers, portable navigation devices, game consoles and smart TVs ect.
Hans Vestberg, CEO of Ericsson, predicted, "that the world's nearly 5 billion mobile phone subscribers today will be surpassed by 50 billion connected non-phone devices in 10 years".
That's how I found myself trying to access Gmail in bed last night, via my Kindle. I don't know why it took me so long. I've had one since Christmas, helping to contribute to the record number of downloads.
4 Kindle screenshots below (animated) btw shift+Alt+G to take a screenshot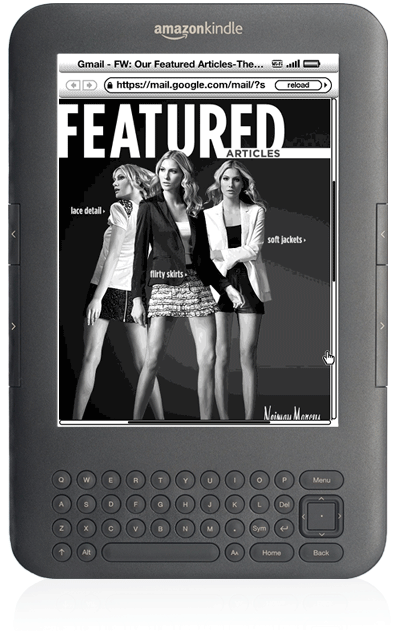 Webkit
The Kindle's, "Experimental" web browser  is slow to navigate using the four arrow toggle (no touch screen). If you have numbers in your username e.g. anna34@gmail.com, you'll need to use the Sym button. When I opened Gmail, I was surprised at how well it rendered…turns out it's using a Webkit based browser.
Much of the Kindle's 600×800 px resolution is taken up with the sidebar ect, so you are left with around 350px in width. Our skinny template just squeezed in, the horizontal held its own, but as expected the fluid template provided the best experience.
Pixels are on borrowed time, we just have to wait out max-width support.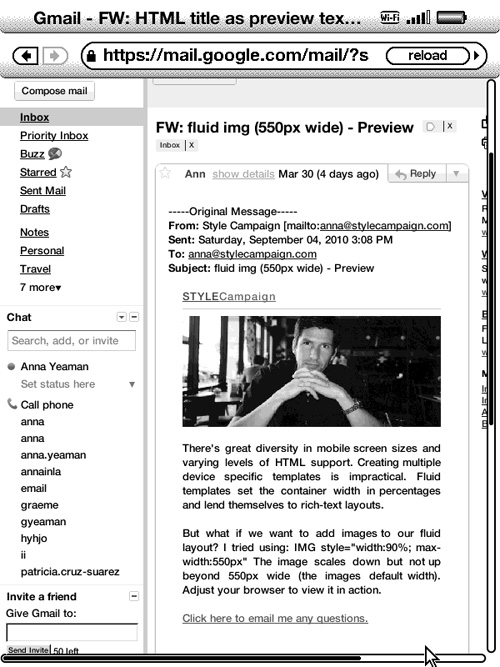 Contrast
You can scroll beyond the default view - see Neiman Marcus below - using the four arrows, just keep going right/down. But it's slow and painful. It's the designers job to reduce this friction by minimizing the need for scrolling.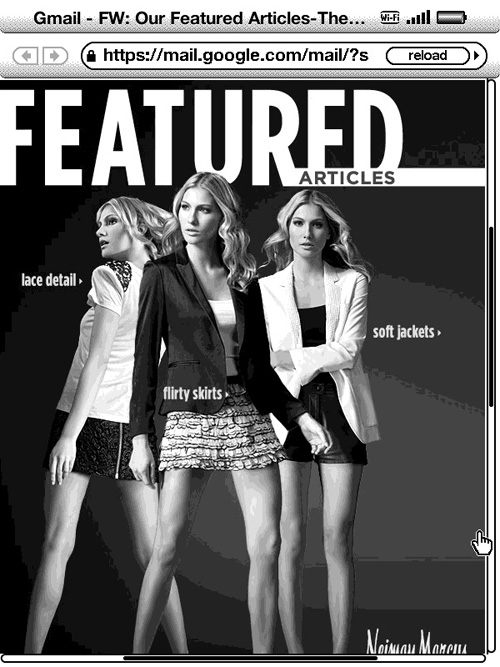 The strong contrast in the Neiman Marcus email really pops in grayscale. It's worth doing a grayscale check with all mobile emails. Poor contrast is heightened on tiny screens, making small elements illegible. Add in partial attention, who knows what lighting conditions and hyper subtlety is out.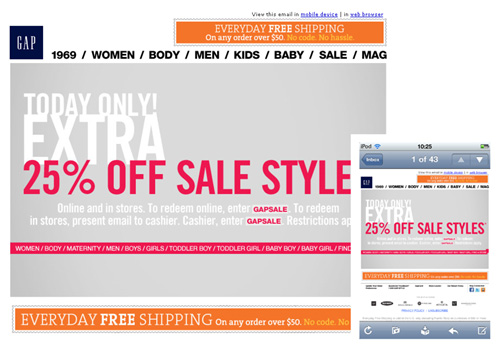 Kindle sales
Although Amazon.com is now selling more Kindle books than paperback books, I expect webmail browsing via e-readers is low. (Anyone have those numbers?)
Around one in ten Americans with annual household incomes of $75,000 or more own a tablet PC (such as the iPad) or e-book reader (such as the Kindle). Though the typical adult under the age of 45 owns four of the devices below.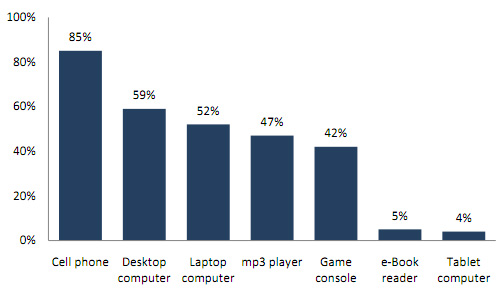 % of American adults that own each device 2010 - Pew Internet American's and their Gadgets PDF.
The Kindle offers free web access for $139, with no on-going fees. It's one of the many affordable, non-phone devices to come. Web enabled consumer electronic device shipments are expected to grow 6 fold, surpassing 230 million installed units by 2014.
Big screen?
Accessing email on my Kindle, reinforced the idea of mobile email as more than just phones. I already own an iPod Touch and I'm considering a tablet. Which in turn leaves me wondering what is mobile?
Does an iPad qualify if it doesn't fit in my pocket and can't be used walking down the street? Zuckerberg doesn't think so. Then again I've seen people use iPads on the metro and buses…
Then there's stationary network enabled devices like TV's, set top boxes, BlueRay players and game consoles. Though web browsing is limited today, two years from now we might be talking about designing email for the big screen.
Email everywhere
Just as I was congratulating myself I don't sleep with my phone (65% of American adults have slept with their phones on or near their bed, 90% ages 18-29 - Pew), turns out my kindle is a stealth email device. I even take it to lunch sometimes, leaving my phone in the office to, "unplug".
Unlike my desktop computer I'm personally attached to my Kindle. I take it to bed, don't share it and have been considering hacking the screensaver to make it more mine. I'm dismayed to realize that an email enabled device is within arms reach most of the day. It really is email everywhere…
btw the webinar I'm preparing for is,"Email Design for the Mobile Environment" for MarketingProfs.  If you use the code "MOBILE" you'll get a discount. No one told me how much work these things are, expect around one webinar a year from me :)