I'm often asked, "If I open Gmail on an iPhone is it logged as an iPhone or Gmail open?". The confusion exists as you can access email natively or via the mobile browser. Check out the two paths:
Native
Gmail running natively on an iPhone:

You only input your settings once. From then on it's one click to access your inbox: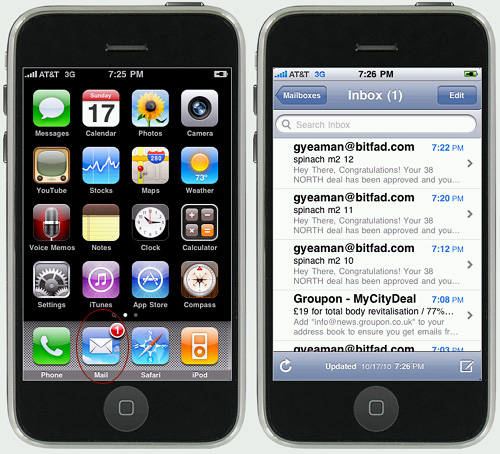 In this example, as the email was opened in the native iPhone email application, it would be reported as an iPhone open.
Via Safari browser
Gmail via the Safari web browser:

In this example, Michelle Eichner, Vice President Product Management at Unica stated,
"We would report that Gmail was used. If we determine that the email was opened in a webmail, that is the email client that was used (even though it may have been viewed on an iPhone), because the web browser/Gmail was used to render the email.

That particular example would report "Safari" as the web browser, in addition to Gmail as the email client, because that is the browser used on the iPhone."
Paul Farnell, CEO of Litmus, recently updated their Email Analytics tool to identify Gmail on the iPhone specifically,
"On our overview report we'll count it as a Gmail open, but we also break down that Gmail usage statistic by browser, so you'll see:

Gmail
using Explorer
using Firefox
using iPhone
etc.
Litmus screenshot: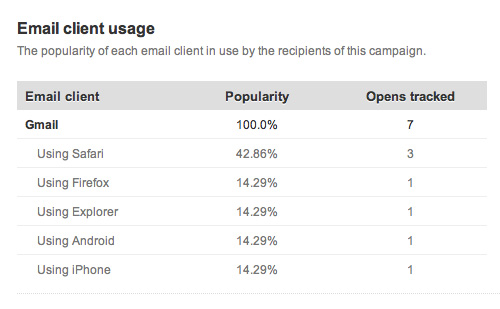 "We do this for each of our webmail clients, as the browser that's used to read an email on, say, Hotmail, will affect how it's rendering. This then ties back to our preview tool, where our customers can preview their message on Hotmail in both Internet Explorer and Firefox."
iPhone native vs. browser
Paul Farnell shared some stats showing the percentage of mobile users that access email natively vs. via their web browser.
We compared the number of opens we have seen where the user accessed Gmail, Yahoo! or Hotmail using their iPhone browser, and the number of opens on an iPhone using the built-in mail client. The following shows how these stack up as a percentage of total opens we've recorded in the past week (13-19 October 2010).

0.24% Gmail, Yahoo! Mail and Hotmail accessed in the iPhone's web browser

4.25% iPhone native mail client
As you'd expect most iPhone users access email via the native email client. I'd like to see the same stats for native vs. Gmail on Android…
How about you?
Image blocking
Tracking limitations due to image blocking can also lead us to underestimate our mobile audience.
Michelle Eichner, stated,
"In my opinion, mobile phone usage for identifying email clients is understated and will be for some time. The technology required to track that an email was opened on a mobile phone is exclusive to email clients supportive of HTML and Images. Although consumers are adopting smartphones at a quicker pace over purchasing new PCs, there are millions of people opening emails using older devices–including older versions of BlackBerry–which lack the tracking support."
Currently, smartphones make up only 25% of the US market. Though by the end of 2011, Nielsen predicts smartphones to overtake feature phones in the US and exceed PC sales in 2012.
Ros Hodgekiss, Community Manager and blogger at Campaign Monitor, agreed,
The iPhone, iPod Touch and iPad continue to be overrepresented in email client usage reports due to a combination of predictable hardware/software, excellent HTML email support and rapid uptake, despite having less market share overall than Blackberry or Nokia devices. For email designers, this highlights the importance of creating  newsletters that degrade gracefully in text-only email clients, despite the relative robustness that Mail provides with rendering HTML email.
This inability to track email opens on older versions of the BlackBerry, may account for the low B2B figures Pivotal Veracity reported: Mobile opens B2C 10% vs. B2B 3%.  The BlackBerry is dominant in the B2B market (66%), the device businesses most often mandate that employees use.
As Ros mentioned, Blackberry RIM is the leading OS in the US  market (33% vs Android 27% and Apple OS 23% ) with Nokia the leader worldwide. Yet BB and Android barely register in our stats, due to tracking limitations.
Usability vote
Mobile email usage is higher than your stats imply. Not only do BB and Android barely show up due to image blocking. They don't tell you the potential number of mobile users you have. Back in Nov 09 4.4% opened our email on the iPhone. We changed our template to an iPhone friendly design and saw it jump to 10.4% the next month.
To get at your potential mobile audience combine usage stats with feedback from other sources. Like the poll in this Whole Foods email, mobile web traffic, link to a mobile version, or the mobile sign up on the Ralph Lauren site. Tools such as Litmus and Pivotal Veracity are invaluable, just keep in mind the limitations they operate under.