In the economic slowdown, marketers are focusing on customer retention. Talking about Exact Targets free iPhone app Scott Roth, director of product marketing stated:
"We'll recoup costs with the clients we'll retain, since they'll be less likely to seek out competitive alternatives," he said. "The iPhone app will help make them more happy with Exact Target overall, it didn't cost us a ton and they will continue to see more enhancements to it." - Scott Roth
Offering a valuable, free service that allows customers to engage with you on the go is a winning strategy. Though with 85,000+ apps available, visability has become a challenge. 
Many brands are leveraging email, with its favorable subscribers, for downloads.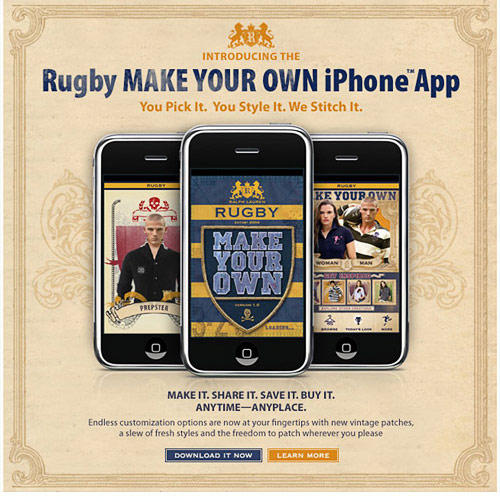 Ralph Lauren promoted its, Make Your Own app in this recent email. You can upload a photo, customize apparel and then order on your iPhone or iPod touch.
"A single ad in a magazine with a dress or two is powerful, but being able to show 52 looks to someone standing on a corner in Texas [using their phone] is another way to touch them." - David Lauren, senior VP-advertising, marketing and corporate communications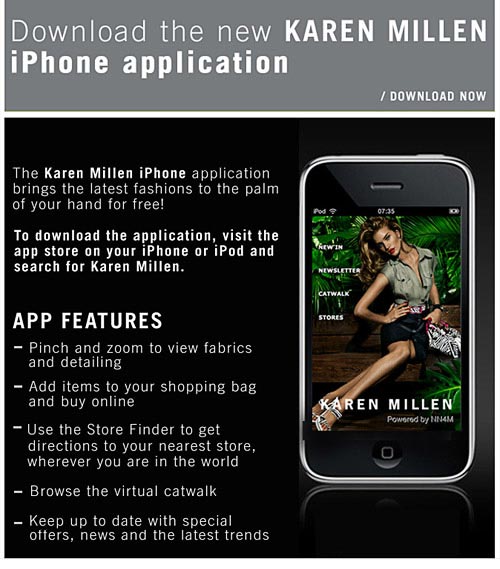 Karen Millen is one of the few retailers to list their apps features. Consumers are becoming more discriminating, so provide them with the benefits directly in the email.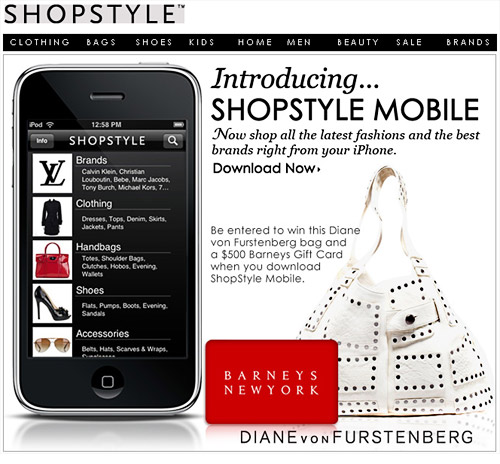 In contrast, Shopstyle offer the chance to win a $500 gift card and Lucky Magazine ran a sweepstakes.
Six of the nine iPhone emails I collected declined to mention if their app was free. They all relied heavily on images and placed a text CTA in an image.
Net-a-Porter and Shopstyle take you to a landing page to download their app. Instead place the download link directly in the email, like Karen Millen. Repeat the download link in HTML in the pre-header.
The majority of iPhone app emails, promintenly feature an iPhone graphic. Without a feature list, it's often all subscribers have to go on. I found this Free iPhone GUI PSD, which you can use in your email creative.
Retailers like RueLaLa, Delight and L.L. Bean have featured their iPhone apps as a secondary item.

RueLaLa sent out a dedicated mobile email in June. They followed it up with this banner, which ran for a week in August, offering a $25 iTunes card as an incentive.

L.L.Bean is one of the few retailers I've seen promote a game, rather than a shopping utility.  Reports show a big drop in app engagement after10 days, so repeat usage is the ultimate goal. 
A potential problem with game apps is that they get played once - if at all, people just like to download free stuff  - then are ditched.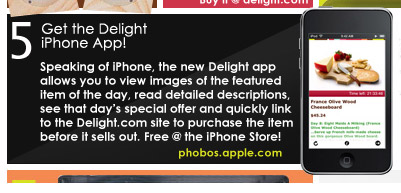 Delight.com launched one of the first iPhone shopping applications. They do a great job of highlighting how users can purchase daily deals before they sell out, as they can browse and buy wherever they are. To test the mobile waters, Delight.com conducted post-sale surveys and Facebook discussions.
"Our customers told us they are very much out and about and they are more likely to have a smartphone in their hands than a computer in front of them. And we found that our customers overwhelmingly used iPhones," said Lynda Keeler, co-founder of Delight.com, at the M-commerce Workshop at the 2009 Internet Retailer Conference & Exhibition. "So we knew then that we needed to develop an appropriate presence for iPhones." 
Net-a-porter and Oasis, both link to their iPhone apps in the social bar of their emails.


I doubt the footer is the best place for iPhone apps. Moving these links above the fold makes them more accessible to mobile users, we've seen this with social links in email:
4x social sharing rates by moving share links to the top. Test placement. Move links around for visibility. @idpkbrian#mimasummitc
Understand your subscribers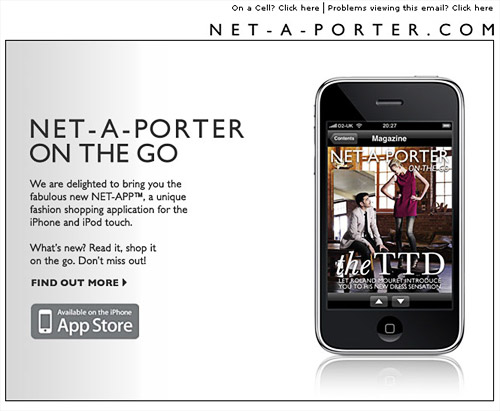 In part1. I suggested using polls, a mobile version and sign up data to find out how mobile your subscribers are. One tool I've used is Fingerprint app. Costs $39, and tells you how many people read your emails on their BlackBerry or iPhone.
Many ESPs such as Campaign Monitor have this function built in. So I now know, 5.3% of my subscribers, read my September newsletter on their iPhone.
In their June report, Campaign Monitor looked at more than 300million opens, and found the iPhone had overtaken Gmail in popularity. The iPhone OS 3.0 is by far the fastest growing email client on the market. 
Unsure which social media links to include in your emails? If your targeting iPhone users go with Facebook: 
71 percent of iPhone users report accessing Facebook from their mobile device, compared to only 22% for Twitter.  - Got Apps? Compete's Quarterly Smartphone Intelligence Survey. It was also reported that while 73% of BlackBerry owners have downloaded five or fewer apps, 72% of iPhone users have downloaded 10 or more.   
 Even though iPhone marketshare is only 10.8%, compared to the Blackberry at 19.9% other smartphone apps are less popular, as Steve Jobs pointed out:
"With 1.5 billion apps downloaded, it is going to be very hard for others to catch up."
Getting over crowded?
A lot is expected of email these days. Rather than becoming obsolete, it's the go-to channel for SMS sign-ups, building social networks and iPhone downloads. All are jostling for pre-header space, along with mobile-friendly text versions, whitelisting and the pre-header offer.
No matter how buzz worthy some of these links might be, your goal is to understand everything you can about your subscribers, then prioritize based on performance.
Further Reading:
Part 1 and 2 of my mobile email series
Free iPhone GUI PSD
Showcase of web designs optimized for iphone
Email Share-To-Social: Not just about the links. (Although about SWYN, many of Loren McDonald's obsevations can be applied to SMS and iPhone apps in email.)