Delight.com had me at hello with their friendly welcome email a year ago. Unlike many retailers using Constant Contact they had taken the time to customize the welcome copy.  The brand felt aproachable and human (signed off by founders Lynda & Tracey).
This human touch is carried through all aspects of their email marketing. As you see in this example, Co-Founder and Head Buyer Tracey Tee, adds a lot of personality signing each, "Love Tracey".
Follow Tracey on Twitter
I had a chat with Lynda Keeler, Co Founder of Delight.com and asked her about her strategy when integrating social media and email.
"First we wanted to just let everyone on our newsletter lists know that we have a Twitter and Facebook presence and now we are playing with it a bit such as adding specific info such as when Tracey reached 2,000 followers"- Lynda Keeler.
Delight.com pay attention to detail.  Since they started integrating social media back in November 08, they have tweaked their graphic to include a photo. (before & after below)
By contrast a tiny icon
 does a poor job of getting readers attention or making subscribers feel invited.
Email campaigns are so 2007! ( Via @augieray )
Elie Ashery's article Social Media Vs. Email stirred up a lot of debate recently. Lynda's comment below would suggest she agrees with Elie's statement, "Social media networks build on the email experience".
"The other key aspect is that with Social Media we immediately are able to start a conversation with customers and potential customers vs. the one way dialog via newsletters" - Lynda Keeler.
Email and social media work like a tag team. My own experience is that I'll send out a newsletter, carry on the conversation on Twitter, often via DM then end up back on email. This is mostly due to the frustration of only 140 characters and because email feels more private.
Any value in social media?
The recent MarketingSherpa report, "2009 Social Media Marketing and PR: Benchmarks and Best Practices" states  "inability to measure ROI" was the second biggest barrier to social media adoption. It goes onto state:
"The ability to accurately measure ROI has nothing to do with the effectiveness of the tactic"- MarketingSherpa.
Tactics that are easy to measure such as "Advertising on Blogs" were rated as least effective. Blogging relations were cited as the most effective tactic. Achieving branding goals was rated the most effective use of social media, but it's hard to put an ROI on good PR.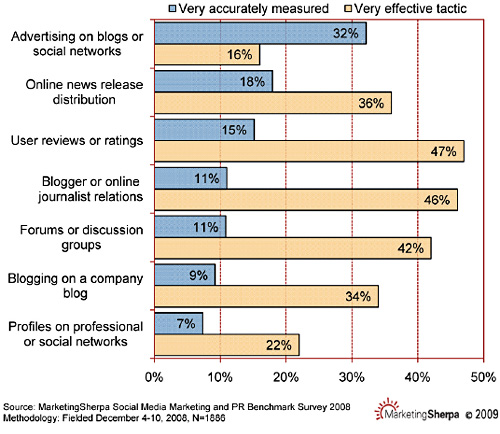 I asked Lynda if she could give me a measure of social media success for Delight.com,
The Social Media group has shown a 20% increase in conversion compared to other traffic drivers" - Lynda Keeler.
Thinking my days as an email marketer were over I was happy to find out, "other traffic drivers" does not include email marketing but paid and organic search. 
A 20% increase in sales by customers engaged with you on social media is significant. On top of this you have the - hopefully - positive impact on brand reputation and awareness.
It's not the medium but how you use it
Delight.com emphasize the relationship. By showing a more personable side to their company customers feel comfortable interacting with them. 
Delivering a down to earth brand via high tech is paying of. Despite the recession Delight.com reported a 100% growth in sales over the 2008 holiday season.
They also made the Internet Retailer hot 100 retail web sites list. Partly by pushing the envelope via their Daily Deals iPhone app, which they promoted via email.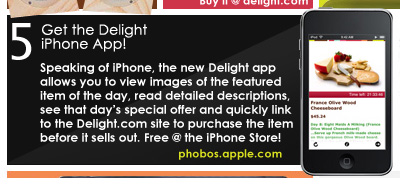 I think Delight.com could watch Mark Brownlow's video, "If marketing emails could talk" without cringing.
You can connect with delight on Twitter @Delight_com. I'm @stylecampaign if you have any questions…