Simona Supekar, communications manager at Shop.com talks about their 30 Days Of Feeling Good Campaign.  It's running through April on Twitter via a dedicated account @30DaysFeelGood. The campaign is being promoted via their website and email marketing.
Early indications are good, with 3,000 entries the first week and twice as many people following the @30DaysFeelGood account than @shopcom - also lots of happy people!
As well as a daily giveaway, people are encouraged to share "positive ideas" via Twitter such as quotes and fun videos to "help us get through the day all throughout the month of April". 
Like other companies Shop.com has adopted recession messaging. Their Twitter background states, "30 Days of feeling good campaign is about bringing people together…during these rough economic times".  
1. Social media and Email
How long has Shop.com been integrating social media and email marketing? (emails below)
Well, we started with the most rudimentary form of social media – simply putting a link in our emails that said "Tell us what you'd like to see in these emails." When that didn't prove to be as successful as we'd hoped, we started integrating recognized platforms for social interaction like our blog, The Shopping Vine.
That was about one year ago. We found success with clicks there and proceeded to integrate our Facebook page and finally our Twitter deals page and now our 30 Days of Feeling Good Twitter campaign into our emails.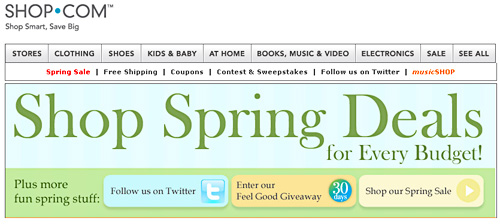 2. Share with your network vs. Lets Chat
I notice you ask email subscribers to follow you on Twitter, rather than prompt them to share your newsletter content. Like this example, did you consider both strategies?
Yes, we are currently in the process of integrating a new Share function throughout our site and possibly our emails as well.
3. 30Days Of Feeling Good campaign
What are the marketing goals behind the 30Days of Feeling Good campaign, account sign up?
Actually, the concept came before the horse, so to speak. After being barraged with bad news left and right, especially in terms of the economy, we decided that there must be some way we can provide consumers with just a bit of good news.
SHOP.COM is a price comparison site, so we really love finding ways of helping our consumers live better with good deals—why not make them feel good too? And so the campaign was born.
A natural element was the giveaway – we wanted to give away mini-splurges—items that are not grandiose, but that definitely provide the pick-me-up people are looking for right now. Certainly we're pleased with the number of new account sign-ups too!
4. Early Indications - 1 week in
After 1 week you had 424 followers (2 weeks 715) on your Twitter account @30daysfeelgood (more than @shopcom at 362). How are you measuring the campaigns success? Can you share any early indications?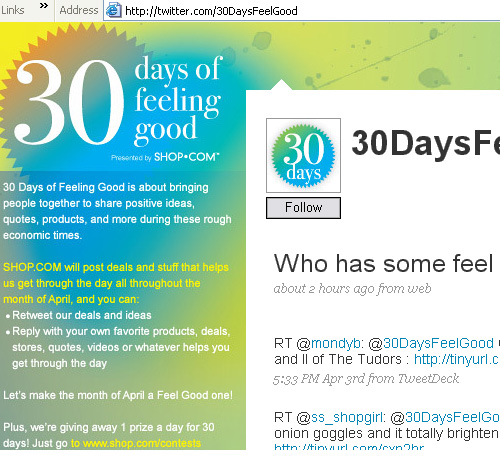 It's hard for us to gauge the number of web site sales, since our business is primarily based on a linkoff model, but we have gotten about 3,000 entries into our Feel Good Giveaway in just one week.
Most of the referring links appear to be from the online sweepstakes sites. Many of the top sweepstakes sites are following our 30 Days campaign, so they may have posted it on their sites after learning about it on Twitter.
We've probably received about 40 or so ReTweets (1st week). We're gauging our success by the amount of followers we have and by traffic to our Feel Good survey and contest – and so far, we're pleased with the results!
Quick 2nd week campaign update: Simona just told me, "Because of the success of this campaign, we've decided to extend this past April with a "Feel Good Summer" concept."
If you've any questions I'm on Twitter @stylecampaign. You can also reach Shop.com at @shopcom and also @30daysfeelgood.