Frank Malsbenden, President of Vision Retailing Inc., the parent company of Shoeline.com, shares the results of this Facebook email.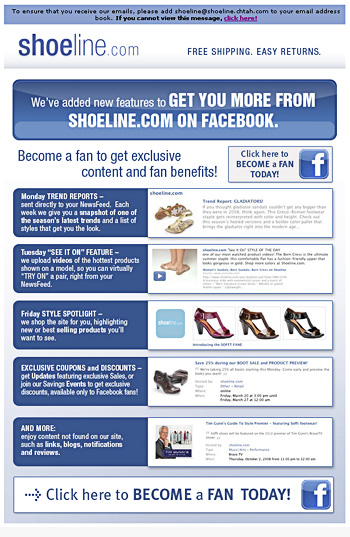 Subject line: "Love shoes? Follow us on Facebook and join the club!".
Twitter DM:
@stylecampaign: You place SM links above the fold in your emails - View example- did the Facebook email generate more followers?
@shoeline: Yes. 46% increase in followers since email, and 57% increase since including SM links. SM extremely important.
@stylecampaign: Worried about readers unfamiliar with Facebook?
@shoeline: Not worried. Facebook Ubiquitous. Ranks w/ Search & Email as top web activity, t-fore mas importante :)
@stylecampaign: Wow that's great 46% increase in followers for the 1 email! How long have you been using SM in email?
@shoeline: We've been including SM since Fiscal Week 8, so only about 9 weeks now.
@stylecampaign: Any stats your comfortable sharing about how the Facebook email performed would be great! 
@shoeline: Aggregate CTR is 19.6% ( email only, does not include the SM links) and Aggregate OCTR is 11.1%. I'll take it. It's important to be a first mover.
Out of 50 retailers using SWYN (Share with your network) in email, only a handful place the links above the fold: The Conran Shop, Whole Foods Market, Blommindales, Shop.com, Norm Thompson and Shoeline.com
I've seen only two retailers send out an email entirely dedicated to Social Media: Shoeline.com and Sur La Table.
The Shoeline.com Facebook email has a lot in common with a good email sign-up page. It tells readers what to expect and when, highlighting exclusive content and discounts.
Sneaking SWYN links into your email footer, with no explanation is a weak strategy.  Every retailer should craft at least one - if not a series - of emails introducing Facebook or Twitter.
If it's the goal of retailers to leverage email to grow Social Media communities, why are they acting so timid? Should SWYN links be above the fold and do we need more dedicated emails to persuade subscribers?