2009 will see a surge in retailers using product and educational videos on the web and in email campaigns.
Dave Witzig from ShopNBC reported that customers that watch their videos convert at twice the rate of customers who don't. Conversion rates increased 45% on 10 different products after retailer MyWeddingFavors.com tested more than 100,000 video impressions.
Obviously now is the time to start thinking about an online video strategy.
I interviewed Kendall Rhodes - seen below - founder of SpinandStir Media, which caters solely to business who want to produce internet video content.
1. Introduce yourself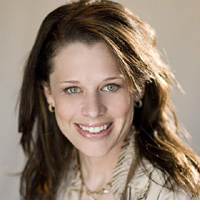 SpinDaily.com is a video blog for Los Angeles fashion, beauty, arts, culture and lifestyle.
SpinAndStir Media is an internet video production company that produces high quality video promotions, web series, how-to videos and short films.
2. What equipment do you use?
We use Sony professional digital video and HD cameras, with a high quality lighting kit, Sennheiser shotguns and lavalier wireless microphones, and Final Cut Pro editing.
3. What's your typical production process?
For a profile video, I usually aim for the final video to be 90-120 seconds.
Within that amount of time, the client can create a personal connection with viewers to build interest and engagement.
The style of shooting is documentary and I aim to bring out the client's personality. For instance it may be easier to use models to show the clothing the client is talking about, or it may be better to use fast paced cutting and music to convey products. The style gets very tailored to each client and their personal style and message.
4. Besides YouTube, what video sites should I be aware of?
My current favorite video player site is Blip.tv. You can instantly publish to MySpace, Facebook, your personal blog orTwitter when you upload a new video.
You can also custom embed the player on any site you want as Flash or Quicktime. The customizable player is well-designed, high quality, and user-friendly allowing others to embed your video on their sites and help make your video viral.
If you are producing a video series, Blip.tv can easily create an iTunes account for you. Also, you can run advertisements on your videos and split revenues with Blip via your Paypal account.
Other good sites besides YouTube are Revver, MetaCafe, and Veoh.
5. Is there an optimum length for online video?
I think it is always better to convey your message on the internet in 2 minutes rather than 6 minutes, if you can. I think the attention span is really poor for internet users and content needs to be quick and engaging to keep people coming back for more. Of course, this takes good editing!!!
6. Based on your vast experience what content gets the most hits?
The how-to's always get a lot of hits. If you have a product, creating a how-to use that product should be an obvious must-do video. For instance, if you own a clothes boutique, it would be a good idea to create videos around "What to Wear."
You could do a special on finding the perfect outfit for the holidays or buying "Back to Work" basics. Anything that is useful that someone might be searching to find on the internet is going to get the most hits.
Example from SpinDaily, even without Kate Moennig this would work well as a promotion for Kin. 
The L Word's "Shane" (or Kate Moennig) loves the hip store, Kin, on West Sunset in LA. Kate takes SpinDaily's Katherine shopping and decides to dress her in her own cool signature style.
7. Common mistakes
I think the most common mistake people make with online video is that they think anyone can do it. There is this YouTube phenomena - which is good and bad - that makes people think they can just buy a camera, shoot something and put it on their websites.
Most of the stuff on YouTube is really, really awful. Bad sound. Bad lighting. Really cheezy. It does take producing and it does take experience. Just because you are a good jewelry designer doesn't make you a good video producer.
9. Can you generate revenue from online video?
The industry is still trying to figure out how to make money from online video. Video advertising (pre-rolls, post-rolls, etc.) does not bring in much revenue for the producer or the companies (Veoh, Blip.tv, etc.) selling them.
Online video ads still just can't compare to revenue brought in by television, and it isn't for the lack of internet videos out there!
What online video is good for (where television ads may not be) is really connecting with your clients. By engaging with a niche audience via 2 minute stories versus a 15-second TV ad, producers are creating a different kind of monetary value, but not one that we can put a price tag on this early on in the online video industry game.
Further reading:
eCommerce Video Production Tips from the Pros: eBags
For a price Goodmail will be delivering embedded video emails in 2009
Online videos increase conversions 45% at MyWeddingFavors.com
Video doubles email click-through rate for Dressed Up!